News and Media
---
Recent News
A Transport Canada study finds many parents aren't using child car seats properly.
Child car seats - News Hour Final - Videos | Global Calgary
---
Car Seat Savvy!
Birth of a Mother (BOAM). Canada's Eco Family and Lifestyle Guide. February/March 2011. Pages 28-31.
---
UPDATE: Children's car seats and booster seats: How long are they safe?
---
Blog entry by CarseatNanny: "Why I Do What I Do"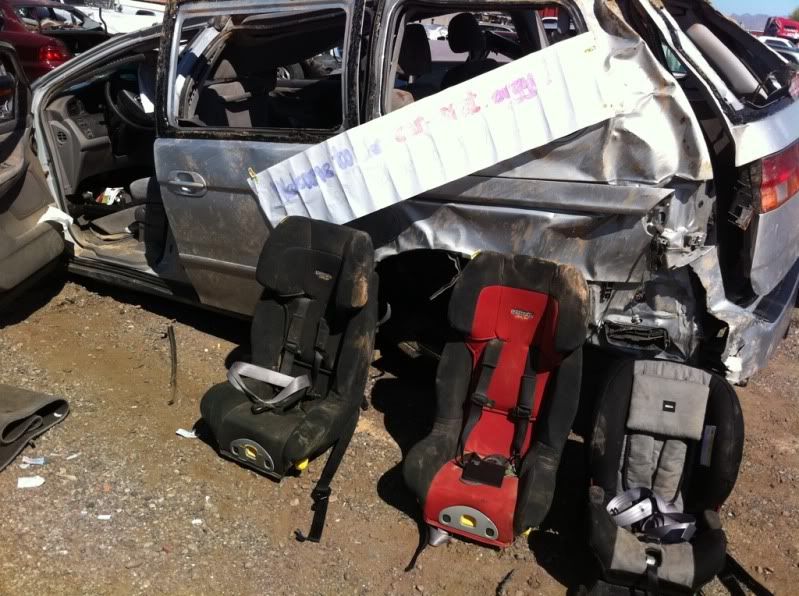 ---
News: Kids should ride rear-facing longer, U.S. doctors say. Click here for the story.
---
16 March 2011
Re: Buckle Up Bears (Airdrie) "We regret to advise that after 5 years of running Buckle Up Bears, we have decided not to proceed with the car seat clinics this year. It takes a lot of time and manpower to continue to arrange for the training and coordinate the clinics and giveaways and update the manuals, etc… With our baby last year and staff changes, it has been difficult to maintain the program." Kimberley Acheson, Rockyview Insurance Services, Airdrie.
Contact LaVonne Ries to arrange a car seat clinic in your area. Phone: 403-969-1054 or email: info@keepinbabysafe.ca
---
RECALL NOTICE: Maxi-Cosi Mico Infant Seat, Base Release Handle. Click here for the public notice.
---
Mark your calendar!
Free Inspection Clinic 11:00 a.m. - 3:00 p.m. Tuesday, December 7th, 2010 at Stir Crazy Family Fun Centre, 3355 Sunridge Way N.E.

Sponsored by Investors Group Financial.
Don't miss out on many door prizes!
---
Infant car seat shortage coming due to new rules: Report on www.ctv.ca
"Parents in Canada could be facing a shortage of car seats in the new year as new design regulations take effect."
---
Win a Graco Snugride 35 Car Seat and Stroller!
Number of winner(s): 1
Prize: Graco Snugride 35 Travel System
Rules and guidelines:
18 years of age or older.
Calgary and Airdrie residents only.
One entry per person.
Winners will be contacted via e-mail.
Deadline to enter: March 31, 2011 February 15th at 11:59pm (MST)
---
Free Inspection Clinic 10:00 a.m. - 3:00 p.m. Friday, October 29th, 2010 at the Lake Bonavista Community Centre.

Charity Event with Kidseat Recyclers
Sponsored by Calgary Moms
---
Car Seat Safety
"Family Fun Calgary recently sponsored a car seat inspection clinic with Keepin' Baby Safe. I thought my car seats were perfectly installed, boy was I wrong…" Melissa
---

Green Their Ride
"Until now, car seats were only good as long as the purchasing family had babies or toddlers to lug. Now, Calgary's Keepin' Baby Safe recycles and arranges donations of used car seats."
---
Keepin' Baby Safe with Melrose Kids Inc. are excited to be launching our new RECYCLING PROGRAM
Kidseat Recyclers is the first recycling company in Alberta that will ensure your child's old car seat is properly disposed of with all the plastic being re-chipped and put back into the marketplace. No more filling up our landfills!!!
Now, all we need are your seats!!
Kidseat Recyclers will be holding periodic recycling depots to collect your unwanted seats. Please check our website www.kidseatrecyclers.ca for dates and times of the depots, or simply contact us at (403) 969-1054, Toll-free: 1 (888) 969-1054 and we can provide you with more information.
Our program is a fantastic community service and we are happy to be offering this option for parents and families. The type of plastic that is being recycled does have a recycling levy of $4 per seat; $2 per base and we charge a minimal $2 to strip the seats. (If you would like to strip them yourselves, we will waive the $2 fee, but please keep in mind that they need to be completely free of all metal, material, etc.)
Our Partners:

---

Family-A-Fair
Come on down to the Family-A-Fair and visit our mascot "Buckle Up Buddy" for all sorts of treats for the kids. Visit our table #203 between 9:00 a.m. to 5:00 p.m. and receive a FREE inspection gift certificate that can be used up until June 30, 2010. (Specials apply to the show only.)

For more information visit:
http://www.family-a-fair.ca/
We look forward in seeing you there!
---
Website Revamped!
Our new website launched February 2010.
---
In the Media
"Buckle up, baby: Police and Health Services work together in educating drivers on the proper use of car seats."
by Kourtney Tateson -
The Calgary Journal
on February 3, 2010
http://www.calgaryjournalonline.ca/
---
City TV - September 2009
Global Morning News - July 2009
---